TransGrid's network connects NSW to Queensland and Victoria and forms the backbone of the NEM.
Quick Facts
3.0M+
Homes and businesses supported

13,203KM
Network lines
It consists of 114 bulk supply substations and over 13,000 km of high voltage transmission lines, underground cables and interconnectors.
In 2019, TransGrid explored a number of innovation initiatives including the use of 'Smart Wires' technology, batteries and drones.

TransGrid manages the resilience of its network by using a structured risk assessment approach. For network safety, bushfire and reliability, that involves the use of Formal Safety Assessments. They identify credible hazards, review and implement all reasonable good-practice controls and monitor implementation and effectiveness through continuous review and controls. Key to the implementation of these controls is the Asset Management System, which is certified to ISO 55001. Emerging future risks, such as a potential change to extreme weather events, are assessed as part of longer-term strategy development. In addition, TransGrid deploys a Business Continuity Management Framework to assess and control the risks of broader business interruption, corporate IT system failure and other threats.

TransGrid designed the Community Partnerships Program to benefit communities in areas where its assets are located or under development. Through the program, TransGrid provides non-profit groups with funding to help deliver initiatives that will have a tangible and lasting impact on local communities. 
During 2020, TransGrid invested over $270,000 across 28 non-profit initiatives. Within this investment, the business awarded a major sponsorship of $50,000 to the Ethnic Community Services Cooperative (ECSC). The ECSC is a non-profit organisation that provides multicultural services and support to meet the needs of culturally and linguistically diverse people. TransGrid's funding was put toward a community bus initiative that helps those in need access vital services in Sydney's Inner West.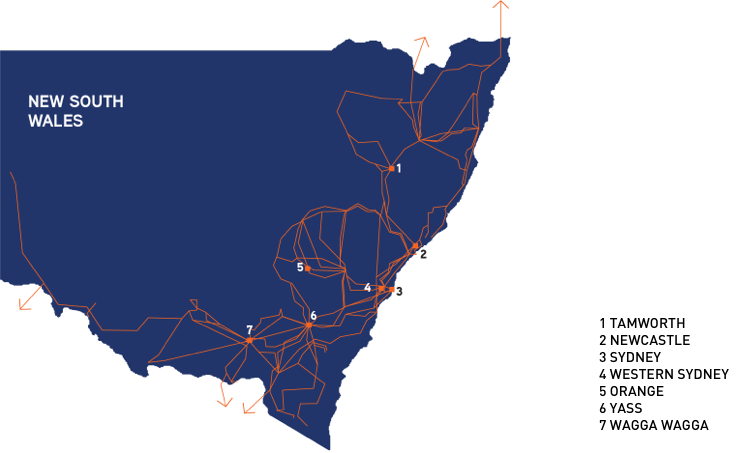 $7,517M
Regulated and Contracted Asset Base
99.99998%
Network availability
2019 Achievements
Signatory to the Energy Charter
Employed 13 new graduates and seven new apprentices
Embedded first Reconciliation Action Plan (Reflect) with work progressing on the second stage (Innovate)
Explored innovation initiatives including the use of 'SmartWires' technology, batteries and drones
Three new generation connections under commissioning
Western Sydney Airport line modification
Increased Gender Diversity to 22%
Hosted two Indigenous interns from Career Trackers
Developed a Network Climate Change Adoption Strategy
2020 Priorities
ISP projects – Project EnergyConnect, QNI, VNI, HomeLink and VNI West
Growth in renewable connections
Enterprise Bargain Agreement
Efficient operating model
Innovation incubator
Early engagement and preparation for the 2023-2028 Revenue Reset
Continual engagement with regulators and policy makers